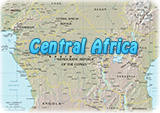 Map source: U.S. CIA - Shaded Relief, 1995 (edited).
The capital of the country is Maputo. Mozambique has border with Zimbabwe, South Africa, Zambia, Malawi and Tanzania.
Church of Santo Antônio (16th century), in Nampula, Mozambique Island, built by the Portuguese.
Copyright © Geographic Guide - World in Pictures. African Continent.