The Dominican Republic is a country located in the eastern of the island of Hispaniola, between the Caribbean Sea and the North Atlantic Ocean, east of Haiti. The capital is Santo Domingo. It is divided into ten regions: Cibao Nordeste, Cibao Noroeste, Cibao Norte, Cibao Sur, El Valle, Enriquillo, Higuamo, Ozama, Valdesia and Yuma. The major seaports: Puerto Haina, Puerto Plata and Santo Domingo.
Shaded Relief - CIA 2004.
The Dominican Republic is bounded on the north by the Atlantic Ocean; on the east by the Mona Passage, which separates it from Puerto Rico; on the south by the Caribbean Sea; and on the west by Haiti. Its greatest length from east to west is about 380 km and its maximum width, in the west, is about 265 km.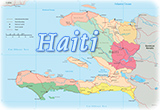 Dominican Republic Map - Travel Guide, America Maps - South, North, Central America.