The first European settlement established in Brazil was Porto Seguro, in 1503, in southern Bahia. The first village was São Vicente, São Paulo state, founded in 1532. The first city was Salvador, founded in 1549, by the Portuguese. The Jesuits arrived in the same year and they founded the first Brazilian school in the city.
Salvador was planned by King John III of Portugal to be the first Brazilian capital. For about two hundred years Brazil was administered by the governor in Salvador. Until the 19th century, Salvador was the biggest port in the Southern Hemisphere. Many ships coming from Europe, Asia and other parts of America docked here, including the Beagle with Charles Darwin, in 1832. Darwin loved the city and returned in 1836.
Today, Salvador hosts a huge historical heritage and the largest carnival in the Planet. This is the land where capoeira and samba were born. Tourists come from all over the world to enjoy the city, its culture and its wonderful beaches.
Tourists in the Historic Center of Salvador with the Santa Casa da Misericórdia, founded in 1549, in the background.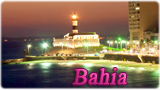 Porto da Barra beach, one of the best beaches in the world according to CNN. This is also a historic port. The Dutch docked here to invade Salvador in 1624, They were expelled the following year.
Cruise ships docked in the Port of Salvador bringing tourist from all over the world (photo Manu Dias).

Copyright © Geographic Guide - World in Pictures. South America, Brazil.
Farol da Barra. The fort, lighthouse and beach. Built in the 17th century, the Farol da Barra was the first lighthouse of America. Today, it hosts a maritime museum (photo João Ramos).
Below, the current cathedral of Salvador, the old church of the College of the Jesuits of Bahia, founded in the 16th century. The original cathedral was demolished in 1933 (photo Tereza Torres).