Image of North America from Space
True-color image of North America (NASA - U.S. Geological Survey).
North America consists of the northern part of the American continent, including Canada, the United States, Mexico, Greenland (Denmark) and Saint Pierre and Miquelon, a self-governing territorial overseas collectivity of France.
More satellite images: Africa, Antarctica, South America.
Hawaii
Political Map of North America
Skiing in Crested Butte, Colorado.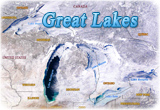 Copyright © Geographic Guide - World in Pictures. North America.
Political Map of North America

Image of North America from Space