Image of North America from Space
True-color image of North America (NASA - U.S. Geological Survey).
Hawaii
Skiing in Crested Butte, Colorado.
Isabel's Eye. Hurricane Isabel, photographed from the International Space Station, barreling towards Cape Hatteras, North Carolina (September 15, 2003).
More satellite images: Africa, Antarctica, South America.
Aerial view of part of the Canadian Rockies.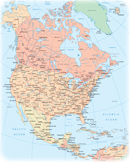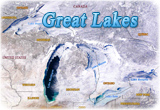 Copyright © Geographic Guide - World in Pictures.