Place de L'Opera and the Garnier's Paris Opera, built between 1862-1875, by the architect Charles Garnier. The Opera House has a vast stage, with room for up to 450 artists and 2,200 seats. The auditorium's ceiling was painted by Chagall, in 1964. See more Pictures of Paris ►
The Tower of Belem, with the Virgin Mary and Jesus, in Lisbon, Portugal. The Portuguese were the greatest explorers of the seas in the 15th century, beginning a new era in human history. It was the first major world power, with territories in four continents. The Spanish, British, French and Dutch followed Portugal in their achievements, using the Lusitanian technology.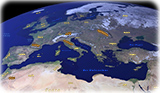 Stockholm City Hall is the venue of the Nobel Prize banquet and one of Stockholm's major tourist attractions. Designed by architect Ragnar Östberg, City Hall was constructed between 1911 and 1922.

Copyright © Geographic Guide - World in Pictures. European continent.